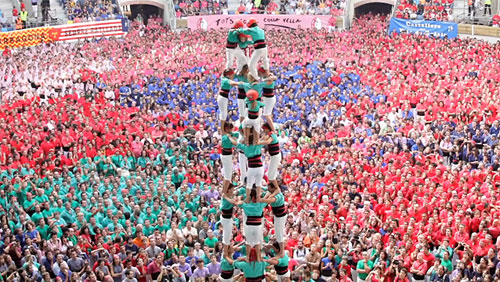 In Barcelona there is an amazing tradition of building human towers where the youngest KIDS are sent to the top!
Spain has a multitude of novel traditions. While bull fighting and tomato throwing festivals are known worldwide, there's another custom that isn't as widely recognized.
Throughout Catalonia (part of Spain), people who create human towers – also known as
Castellers
– who compete to see who can create the tallest human pyramids. Only these flesh-and-muscle structures aren't really pyramids at all; they are single and multiple-tiered assemblages that are supposed to resemble castles.
The Catalan tradition is said to have begun in the 18th century, and today it is still going strong. These
castells
have a bulky, sturdy bottom with several layers, usually culminating with the youngest, smallest children on top!!
Watch this amazing video showing how these towers are built!
Casteller by Mike Randolph. Thanks to Gadling for the link!



Color Fun Run
Summer Super Foods
Batman's Baddest Villains
Amazing 3D Street art
Commenting Coming Soon...